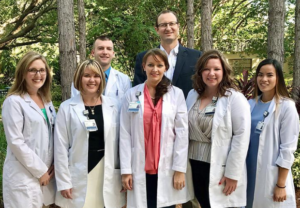 ​​​A BayCare team is one of five pharmacy teams to receive a Best Practice Award from the American Society of Health-System Pharmacists (ASHP).  The project, "The Impact of a Pharmacy Transitions of Care Program (PTOC) on 30-Day Readmission Rate in a Large Health System," was conducted by Clinical Pharmacists Timothy Bach, Lacey Charbonneau, Josephine Cheng, Jennifer Kearns, Mary Lomberk, and Daryl Miller, under the leadership of Timothy L'Hommedieu, director, Pharmaceutical Services.
"These notable practitioners are on the leading edge of pharmacy practice and patient care," said ASHP CEO Paul W. Abramowitz, in announcing the winners.  "The programs and tools developed by these talented teams will serve as models for other pharmacists who are interested in expanding patient care services."
The goal of BayCare's PTOC program is to ensure that patients are prescribed the right drug therapy, and understand their medications and how to use them.  Optimal medical therapy and management of patient compliance are key drivers of hospital readmissions. This system-wide team leveraged pharmacists to successfully create and implement the PTOC program, which has reduced readmissions for target populations.
The program was piloted at SJH in 2014-2015 and rolled out across the health system in September 2016.  Data shows that the program demonstrated statistically significant reduction of all-cause 30-day readmissions and reduced them by more than 64 percent, resulting in a $2.2 million estimated total cost savings.  The program continues to produce consistent and sustained hospital readmission rates.
"I am grateful to the effort this team has put forth to produce results that improve the health of the patients we serve," said Mike Magee, vice president of BayCare Pharmacy. "This is a true example of an extraordinary team providing extraordinary care that has received national attention as a best practice."
The team received the award Dec. 3 at ASHP's 52nd Midyear Clinical Meeting and Exhibition in Orlando.
Photo caption below:  
(Left to right)  ASHP President Elect Kelly M. Smith congratulates Tim L'Hommedieu, Tim Bach, Mary Lomberk, Mike Magee, Jo Cheng, and Daryl Miller on their Best Practice Award. Not pictured:  Jennifer Kearns.